What to look for…
Purchasing a new fence is a major investment that, when installed properly, can add significantly to the value and appearance of your home. When looking for a new PVC fence, a few things to keep in mind is the quality and origin of the PVC itself, the strength and depth of pipe used, as well as how far apart are the sections are spaced. Make sure you are 100% satisfied with the install before signing off on the work.
Checklist for buying a new PVC Fence
Is the material VMA certified?
VMA (Vinyl Manufacturers Association) certified products are 3rd party, independently tested to ensure ASTM (American Society for Testing and Materials) standards are met or exceeded. This certification was designed specifically to protect the homeowner. Fence material that is not VMA certified will not have undergone the same rigorous pre and post extrusion testing. There will be inconstancies in the raw materials which can then lead to product failure and no protection for the homeowner.
Is the company insured?
As a homeowner, you could be liable for any damage caused by an uninsured contractor. Installing a new fence can be very dangerous due to the close proximity of underground services. Make sure the company will not only request all services to be located but also follow proper safety precautions when working near them.
Does the company have the capacity to complete your job on time?
Some companies will promise a certain date and be glad to take your down payment, but in fact, they will not actually stock the product which can lead to your fence being pushed back to a later date. If you are on a strict timeline, as a homeowner, be sure to write and include your requirements on the original contract.
Is the company experienced in installations and the products they offer?
Be sure the company will stand behind the product and workmanship even years after the fence was installed. Be cautious of companies using sub-contractors to install the fence as any issues down the road can be easily blamed on the other party. Be sure the company has a storefront where you can go for service and warranty.
Be cautious of 'Price Per Foot'
Some companies advertise a lower price per foot, but have additional charges added to the contract such as overhead production or material waste. An extra 10% can be about $4 per foot in some cases. Simply request a true quote showing no hidden costs and only the exact cost of the fence.
Before you make the final payment…
Be sure you are 100% satisfied with the work. Too often, homeowners pay in full and still have issues with the installation which can then be difficult to get the installers back. Make sure you are satisfied with all details including the gap between the bottom of the fence and ground, the way the gates swing and latch, as well as the overall detail of the workmanship and cleanliness of the jobsite. There should not be any waste or mess left behind.
Frequently Asked Questions
Aren't all vinyl fences the same?
No. Vinyl fence system components are available in a wide range of sizes and thickness. To reduce costs, some manufacturers decrease additives such as impact modifiers or use chalking TiO2, resulting in reduced strength and ultimately yielding inferior fence systems.
Is it recycled vinyl?
Homeland Vinyl Products use only virgin vinyl for all of their profiles. PVC resin is the main component used in vinyl fence profile compounds, equaling over 80% of the total. Like the flour used in a cake mix, a superior quality resin costs more than resin of inferior quality. We only use vinyl products we believe are superior to other available materials.
What is virgin vinyl?
This is the term used for vinyl product that does not contain recycled products. Recycled products that may be imported into an extrusion plant may contain impurities or lower grade vinyl which can seriously affect the finished product's resilience, impact resistance and UV inhibition.
How does the cost of vinyl fencing compare with traditional wood fences?
The initial cost of vinyl (PVC) when compared to wood is slightly higher for the materials. However with the ever-increasing cost of wood this difference is becoming very minor. When all the varied cost factors are taken into account over the life of your fence, vinyl (PVC) becomes the true money saver. Factors such as having to replace the wood fence in 5-15 years, yearly maintenance costs (labor, paint, replacement boards, etc), and the effects on the environment because of arsenic in treated wood or the toxic chemicals needed to maintain a wood fence show that wood truly isn't as cost effective in the end.
Some costs are hard to measure such as the costs to you of having a fence that looks in need of maintenance. The cost difference quickly vanishes, and in fact vinyl becomes a sound and financially viable investment in the future of your home. Once your vinyl (PVC) fence is installed you do not have to worry about painting, nails rusting, boards rotting, or splinters.
Are all product warranties the same?
No. A warranty is only as good as the company that stands behind it. The fence industry has seen products and/or companies enter the market, only to leave homeowners with a worthless piece of paper as a product warranty. That's why you should check out the reputation of the company offering the warranty, just as you would when choosing the right contractor.
Will it break in extreme (hot/cold) weather?
No. The vinyl we stock has been engineered to accommodate temperature swings and climate condition changes. Any fence will break when enough force is applied. However, Homeland vinyl (PVC) profiles are formulated using impact modifiers in precisely engineered amounts to ensure the greatest impact resistance available. They are also engineered to withstand higher impacts than the minimum required by ASTM. Consumers may not be aware of the level of quality protocol necessary in the industry nor are they always knowledgeable of the standards by which manufacturing processes are examined. PVC resin is checked for moisture, color and content. The compound batches are analyzed in a pre-extrusion check for molecular fusion temperature and pressure. Extruded profile samples are cut and checked "on line" for color, gloss, radius and dimension and tested "off line" for impact resistance, as well as heat and freeze reactions.
How is vinyl made?
The two most common methods for manufacturing vinyl fencing are a mono-extrusion process that uses one vinyl compound and a co-extrusion process that uses two or more vinyl compounds. The co-extrusion process lets a manufacturer engineer a product with greater strength and durability. The best products are made from virgin vinyl, which ensures that the product is made using raw material most appropriate for its application. For vinyl to have the characteristics necessary for fencing, it must be combined with special additives and modifiers to make it strong and durable. The vinyl we use contains a formula with UV inhibitors which guards against the sun's harsh rays and additives that make the vinyl rigid, yet flexible enough to resist cracking or shattering.
Do you use the co-extrusion process?
Co-extrusion is the newest technology used for shaping PVC products. Two or more layers are produced: The outer layer (or cap stock) is similar to a "skin." It contains a denser concentration of the essential elements (including UV inhibitors) and protects like a sunscreen when exposed to harmful UV rays. ASTM's specification for rigid PVC exterior profiles used for fencing (F 964-94) requires the cap stock layer to be a minimum of 0.015 inches thick and a maximum of 20% of the profile wall overall thickness. It is important for the buyer to determine what ASTM specification is being used by the extrusion supplier to determine the supplier's compliance with ASTM standards, if any.
Will a quality fence cost more?
Yes. Good-quality material and workmanship always costs more than sub-standard products. Although a sub-standard product may cost less, the risk of future maintenance and/or replacement cost outweigh any benefits the lower price may seem to offer.
Don't all vinyl fences stand up to wear and tear?
Not necessarily. A light (standard) system may bend easily, even in normal use. Additionally, a weak-fastening system for a post and rail connection can result in poor performance and result in dislodged rails. However, a properly engineered system with a heavier wall thickness and secure rail connection will make a vinyl fence stronger and more durable. We use a routed method of fastening which results in a clean looking, strong fence.
Will it turn yellow?
No. Homeland Vinyl Products contain a non-chalking titanium dioxide (TIO2) which prevents ultraviolet degradation and carry a 30 year fully transferable warranty. Wash your fence periodically and it will not yellow
Can I paint my vinyl fence?
OK Vinyl Products are engineered to retain their beauty and good looks throughout their lifetime. The only reason to use paints on our vinyl products would be to change the color of the product. The extruder does not recommend painting vinyl (PVC). There are paints that are available to paint vinyl however painting or otherwise treating the vinyl voids the lifetime warranty.
How do you install the posts?
Depending on ground conditions in and around the Regina area, we use the method of air driving round galvanized pipe 4 feet into the ground. Upon the installation the pipe which supports the vinyl posts uses an adjustable collar. This method allows for adjustment down the road should the post lift or sink due to excessive frost.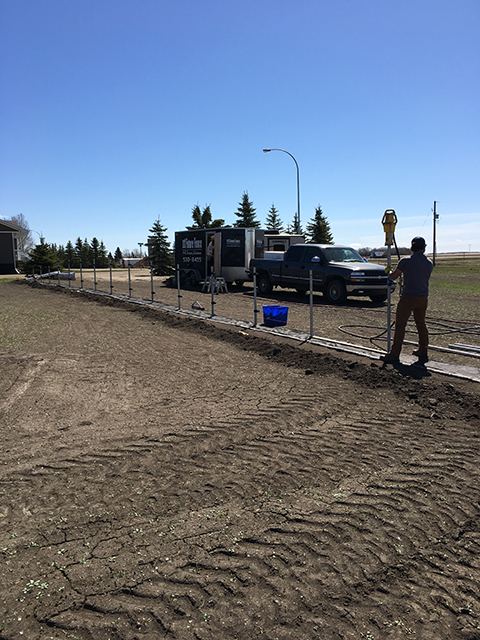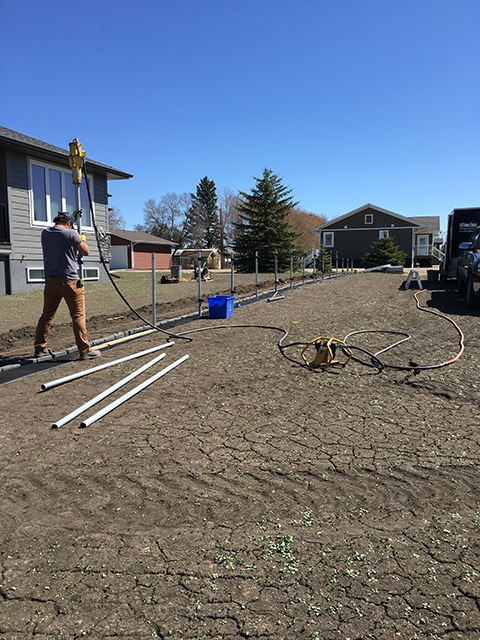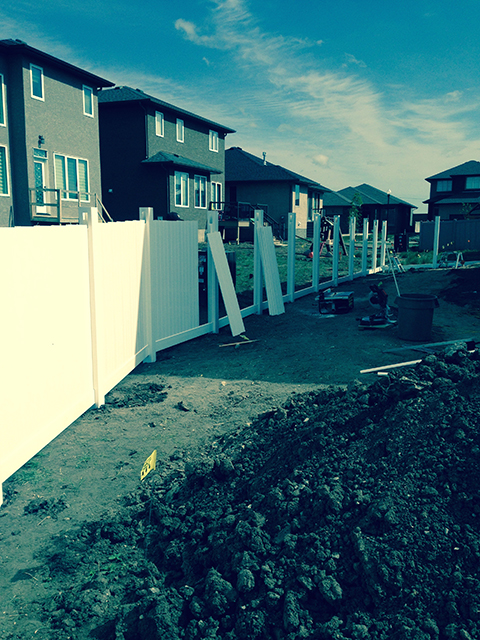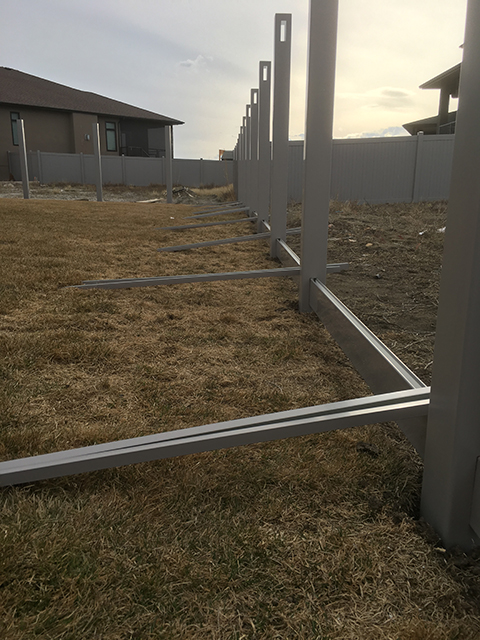 For more than 100 years, the Better Business Bureau has been helping people find businesses, brands, and charities they can trust. BBB helps consumers identify trustworthy businesses, and those that aren't, through more than 5.4 million BBB Business Profiles.
A recognized leader in the PVC extrusion industry of fence, deck, and rail. Proudly manufactured in the USA to the highest quality standards. Homeland stands behind its products and provides a limited lifetime warranty for its products.
Vinyl Manufacturers Association (VMA)
The Vinyl Manufacturers Association (VMA) was designed to raise standards and maintain product quality for the vinyl industry. In addition to the standard testing like impact, weather, and wind, the 3rd party testing certification program focuses on the cell classification so homeowners know the product advertised is the same as the product they receive.
American Fence Association (AFA)
The American Fence Association benefits fence industry professionals and consumers by promoting the highest levels of professionalism, ethics, and through the education and certification of its members.
Saskatchewan Common Ground Alliance (SCGA)
Future Fence is an active member of the SCGA. This is an organization dedicated to ensuring worker and public safety, environmental protection and the integrity of services by promoting effective damage prevention practices with underground infrastructure.